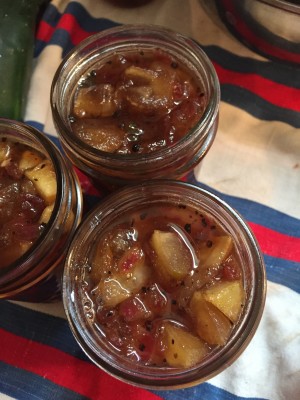 Last week, we made our first-ever watermelon pickles. I used a watermelon pickles recipe that my sister gave me some years ago, and I also consulted our Ball Blue Book, keeping in mind the principles of safe canning and our adventurous palates.
As 20 Minute Jim previously noted, our inspiration in part was the several small non-mature watermelons we harvested from our vines. Yes, the squirrels got there first, but we don't let a small inconvenience like that slow us down; I simply cut off the offended portions and used the rest.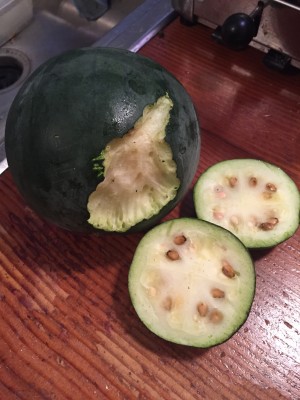 As you can see in the picture, the insides of the watermelons did not have a chance to ripen and get pink. I sampled the interiors and the flesh was fairly sweet– alas! Nonetheless, I used the rind only for the recipe, scraping out the soft interior and peeling off the dark green skin.
Watermelon pickles are a multi-step process, so be sure to read through the whole recipe before you begin and allow time for the various stages.
Watermelon Pickles
Ingredients:
5 cups of watermelon rind (white parts only)
1 medium lemon sliced thinly
1 tablespoon of whole allspice
1 tablespoon of grated ginger root
1 teaspoon cinnamon
2 cups of sugar
1 cup distilled white vinegar
1/2 cup of water
Method:
Step 1:
Cut watermelon rind into 1 inch square pieces. Measure to equal 5 cups. Blanch 8-10 minutes. Cool in ice water. Drain well.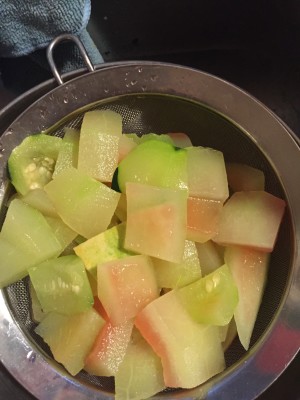 Place rind and lemon in 8 quart non-metalic container. Tie spices in cheesecloth. Bring the rest of the ingredients to a boil. Simmer 5 minutes. Pour syrup over watermelon, stir. Cover and let set for 12-18 hours, stirring 2 or 3 times.
Step 2:
Remove lemon. Into 6 to 8 quart saucepan, bring mixture to bil. Reduce heat and simmer 40-50 minutes. Remove spice bag.
Step 3:
Fill hot 1/2 pint jars with mixture, leaving 1/2″ inch space. Remove trapped air bubbles. Wipe jar tops and threads clean. Process in boiling water canner 15 minutes. Makes 6 – 7 jars of 1/2 pint size.
If you don't know how to can, learn! It's not that hard, but it's a task where a clear understanding of the equipment and methods is necessary for producing safe and delicious foods.
You can always make a recipe in a small portion and store in the refrigerator, rather than processing, but what you gain in convenience and speed you lose in the ability to brighten a winter's day by opening a jar of your very own Watermelon Pickles!