Posted on June 24, 2012 by halzpal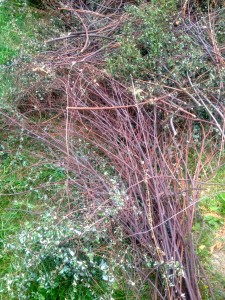 It's officially summer so I trimmed the spirea bushes around the front porch, in hopes of clearing a little most working space to renovate our grand old outdoor sitting space later in July. When I saw those heaps of brush, I thought the same thing you probably did: beer.
Those twigs are just the perfect size fuel for the "Hundred Dollar Folly," the nickname I gave my rocket stove. I'm still don't quite believe how well it worked for the first batch, how little fuel it used, how relatively easy it was to operate. I wanted to test how far it would perform. This batch I wanted to see how well it would work with rather green twigs.
Zymurgy Recipe Challenge: Zymurgy is a fantastic recource of kitchen tested beer recipes but one I hardly ever use. I challenged myself this day forward to brew one beer from each issue. The most recent Zymurgy (Vol 35 No. 4) focused on "Hop Bliss" hence half of the 14 recipes were that style. I steered away from them because I wore out my affection for ultra hoppy beers during my first few years as a home-brewer (back during the Clinton administration if you need to put a date on it.) Plus, it's my suspicion that the rocket stove gets so hot on the bottom that it's hard to avoid carmelization, hence compromising the "pale" in Pale Ale. I selected the "Three Kings Baltic Porter" a winning recipe back at the NHC in 2010… though the ingredients I finally used bear only passing resemblance to the original recipe. The magazine printed the extract version so I went to the Brewopedia to retrieve the all-grain version. Since you can get the real McCoy there, I am just printing the recipe I used, a kitchen-sink version which I named "Dead Robin Rocket Baltic Porter":
Ingredients:
13 # Maris Otter pale malt ( my base grain of choice)
.85 Munich malt
1 # chocolate malt
.5 # 120 L crystal
.25# Carapils / Dextrin malt
2 oz Saaz (60 min)
1 oz Hallertau (60 min)
1 oz Hallertau (10 min)
Munich dry wheat yeast
Story Time: "Dead Robin?" On brewday, I discovered not one but two dead robins around our property. I felt slightly guilty since earlier in the week I'd been cursing them as they plucked the worms from our garden bed. Dead robins, this one's for you.
We got a dinner invitation from my long time brewing buddy right about the time I got all the grain and water safely nestled in the insulated mash tun. I figured that it wouldn't go anywhere and that I could postpone brew day until Sunday. This morning I tasted the runnings and detected no sense of souring, though if this ferments down, it will be mighty powerful.
The other trouble was with yeast. I wanted to use the yeast indicated in the recipe so I bought a tube of it, gently warmed it to room temp in my hands to wake it up and pitched it into a cup of malt extract. I waited for nearly 20 hours with absolutely no sign of life. Finally, as the brew neared completion, I ripped open a package of dry yeast and sprinkled it on the starter concoction. Within ten minutes, there was active fermentation. Another brewday saved by dry yeast. I will not waste my money further on "live" yeast.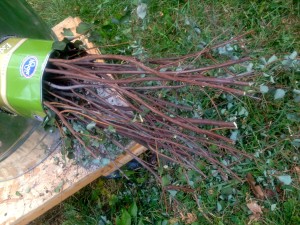 Fuel Input to Rocket Stove
For kindling, I grabbed some handplane shavings from a finger joint box I'm making. Oddly enough, the spirea twigs didn't want to catch. Could it be because they were so green the leaves were still supple? I wasted a dozen matches before I tried getting the blaze going with dry sticks and only then adding the spirea twigs. Note to self: dry wood burns; green wood smokes. Of course once I got the rocket stove up to temperature, the twigs were nearly vaporizing into clean combustion.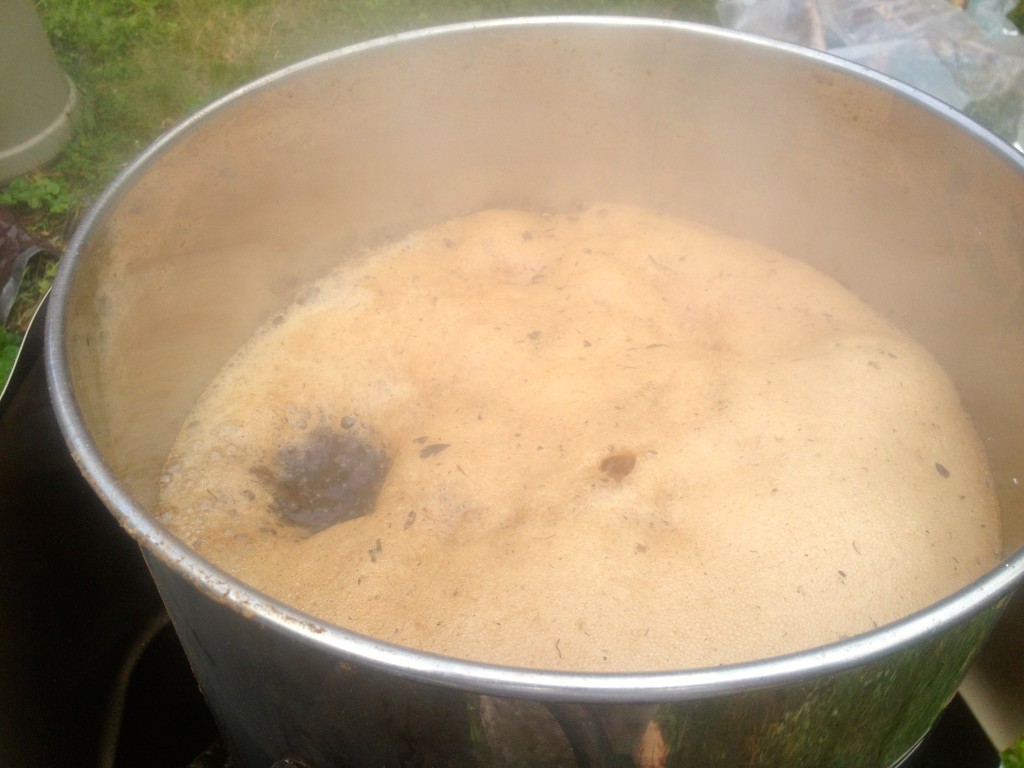 One trouble of brewing over an always-on heat source is the risk of boil-over. As my batch reached boiling temp in what seemed like record time. I snapped photos as the bubbles churned up to the top of the pot… and went over! Note to self: one way to turn down the heat on a rocket stove is to grab the twigs sticking out of the hopper, and pull them out a few inches. The fuel in the combustion chamber will continue to burn for a mintue so the change isn't immediate but gradually the heat will lower. I played with this technique throughout the boil and got it to boil over again and then tamed it back to normal. Note to self: boiling hot wort smarts.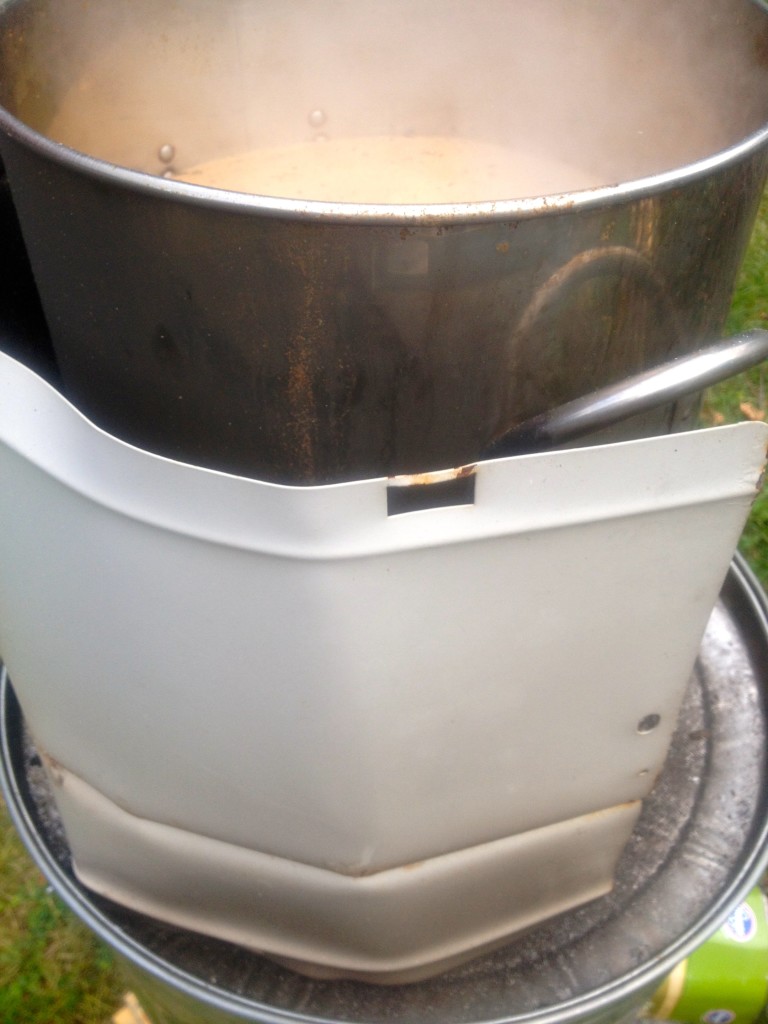 I made a few adjustments to the heat shield. It still needs a bit of focused work to make it fit but it definitely keeps the heat around the pot. I noticed a fair amount of soot, likely from the green twigs.
Brew day was over well before lunch time, mostly due to mashing overnight in the insulated tun. The entire boil used the brush from one of the spirea bushes, leaving me with enough fuel for three more boils. I ladled out the spent grains around the basil as a rather attractive mulch.