Sunday afternoon found us in a bright and bustling lot adjacent to the Henry Ford admiring home-made props, learning about alternative energy and currency, throwing darts, betting on wooden derby cars, and conversing with makers from across the country. The 5th Maker Faire Detroit welcomed thousands of people to a place filled with imagination and innovation, and we felt right at home.
Why do we go to the Maker Faire every year? We certainly had a great time last year, but why go more than once? As at other events, there's a number of booths and groups who come to the Maker Faire each year, and not everything on display is brand new ideas or merchandise. Nonetheless, we have made a point of attending the Maker Faire each year, and we will almost certainly go next year.
Here's why:
Innovation: Can you make it faster, better, cheaper — or at home? One of the coolest things I saw was a wheelchair modified with a lift to aid the user in standing up. A teenager from Ohio had built the equipment with parts from a hardware store for about $400, compared to the $4000 and up specialized chairs on the market.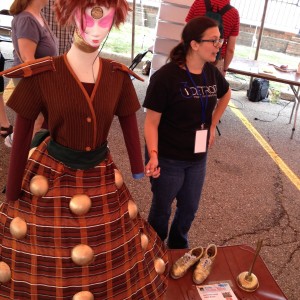 Imagination: The Maker Movement is full of people using their imaginations to make what they want. We saw a Dalek Bowie mash-up costume that a young woman had handcrafted and was happily showing off.
Creativity: Endless amounts of this on display! One of our favorites this year was the Maker Works display. Their whole tent was devoted to a single feature: making and racing a soapbox derby car, from woodblock to the finish line. We watched people of all ages sketching their designs, waiting for them to be cut on a saw, and adding wheels and extra features from the stash of recycled parts provided by the Scrap Box. The joy on the faces and the buzz of excitement in that tent was obvious.
Conversation: We had a lot of good conversations on Sunday. Many of them began with that ever-popular conversation starter– paying serious attention to someone's work. Jim is a master of conveying engagement in art or craft that captures his interest. When you take the time to examine an object or idea that another person has crafted, you are giving that person a gift which he or she shouldn't take lightly. We also learned all day because we asked a lot of questions. I learned how to assemble a DaVinci bridge with the aid of a helpful volunteer.
Inspiration: Having an enjoyable outing is always a plus, but Maker Faire is an event that inspires attendees to go out and do something. I left with a stash of ideas to try at home.
What if you lack workspace, or tools, or skill? We were excited by the number of makerspaces from near and far that represented at the Maker Faire. I'm sure we didn't see them all, but some of the local groups included Maker Works (Ann Arbor), All Hands Active (Ann Arbor), GR Makers (Grand Rapids), Mt Elliot Makerspace (Detroit), i3 Detroit (Ferndale), and TechShop (Allen Park). Each of these places offers tools, training, space and camaraderie, so you don't have to wait to make something exciting.
See you next year at the Maker Faire!