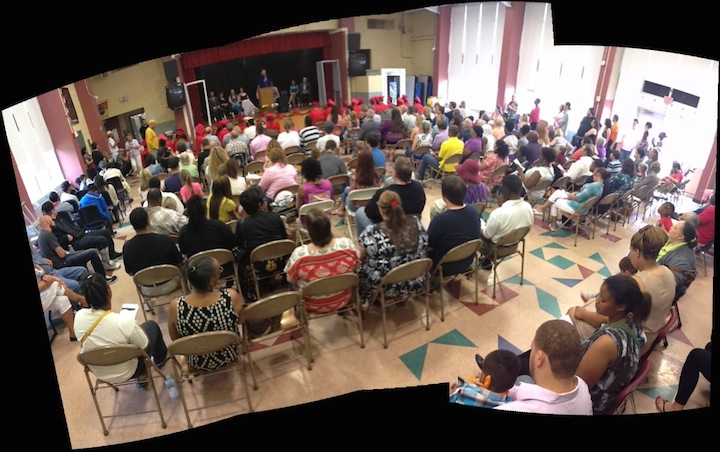 For the last couple of years, I've worked in an alternative education high school program. It doesn't matter which one really; these types of programs exist all over. Ours is part of the public school system, and it's designed to give the students who need and want it one last chance to finish high school and graduate with a diploma– not a Good Enough Diploma, but a real diploma issued by their high school.
This week, our most recent graduates gathered in a large room filled with family and friends.

A guest speaker gave them advice and encouragement, and three of the graduates also spoke about the value of this achievement. I stood on the stage and gave hugs and handshakes to each of these capable young people as they paraded past.
But I didn't give a speech.
If I had given a speech, I would have talked about the power of a second chance. Each of you in this program was offered this gift. For whatever reason, you here today were able to take advantage of the chance to try again, but this was not easy for any of you.
I can read your faces like the stories you carry with you:
For you, whose grandmother –the only parent you ever knew– died during junior year;
For you, who had a baby last summer and will have another child due this summer;
For you, whose mother's crackhead boyfriend called lazy and no-good as you left the house to go to your fast food restaurant job to work a shift and then come to school;
For you, who got kicked out of the house and are living in a friend's basement;
For you, whose mom has been in jail most of your life;
For you, whose disability or mental illness has invited ridicule or isolation in traditional schools;
For you, whose struggle with addiction slowed you down;
For you, who has dealt with crippling social anxiety that makes it difficult to leave the house;
For you, living on your own, in your own apartment, paying rent by working in a diner;
For you, with those drug deals or weapons charges that have prevented you from going back to your regular school;
For you, who had a baby during sophomore year;
For you, whose only transportation option is a cab provided by the school system;
For you, who are the first person in your family to graduate from high school;
For you, whose stories I didn't get to know because you carry them quietly inside.
As I list them here, to me, these obstacles are staggering. You made each of these obstacles unimportant. You put those other things aside and gave yourself permission to achieve something just for you.
The most significant difference is the one inside you. You took the second chance offered to you, and you met your goal. You got your reward. Perhaps the greatest obstacle each of you faced was yourself. Talking with many of you one-on-one, I heard the same thing: at some point, you realized that you had to do this yourself, that no one was going to do it for you.
Each of you has surprised someone by walking across this stage. Someone thought you weren't going to be able to do this. Maybe that someone was you.
It hasn't been easy for any of you. You know disappointment, you know heartbreak, but now you also know the power of the second chance. When you can, extend that gift to someone else. Opportunities for making a difference in the world exist everywhere, when we look for them, and especially when you know what an impact another try can have on a person's life. Look for your chance to give someone else a second chance.