We are fortunate to have Treasure Mart, a pretty amazing consignment shop in our town of Ann Arbor. The store is chockfull of all kinds of amazing things and makes for enjoyable browsing and reminiscing too. Jim spotted this pretty cookie jar on such an excursion not too long ago. He wasn't hunting cookie jars in particular, but sometimes you don't know what you are looking for until you find it.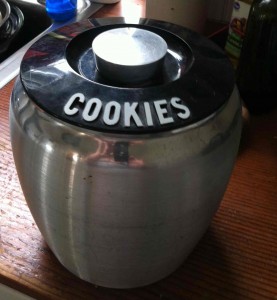 He didn't buy it right away. He thought about it for a couple days. Did we need a cookie jar? (Yes!) Did we have one? (No!) Was this the right one? He decided yes. He anxiously made the trip back to Treasure Mart, where luckily enough the cookie jar was still waiting. He brought it home, where it sits on the shelf above the stove and fits right in with a few other residents.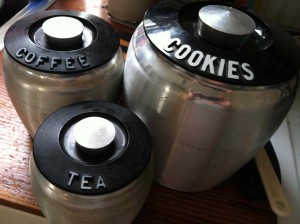 A little internet research, motivated by this recent purchase, revealed that these are Kromex spun aluminum canisters from the 1950's. We inherited a couple canisters, namely Coffee and Tea, which both hold tea, in our case, and now we have a small set. We don't need a full set, but we may keep our eyes peeled for the companion container labeled "Grease".
Why do we love thrift shops and second-hand stores? One reason is that second hand stores give items that still have good use in them the chance to continue to be useful. We Americans live in the land of plenty; it's not hard to accumulate belongings and often we all find ourselves with duplicates or with things we no longer need. Donating good items saves them from a direct trip to the landfill and raises the possibility of those things meeting up with people who need them or want them.
Even though we shop at thrift stores, we also have an ingrained habit of regularly donating things we don't need anymore to places that re-sell them and that raise money for good local causes and groups. Our favorite is the Kiwanis Shop, conveniently located in our neighborhood; we also donate to the PTO Thrift Shop, the ReUse Center, the Salvation Army, the Habitat for Humanity ReStore, and St Vincent DePaul. It's a circle of life thing!
Shopping second hand is also raises awareness about consumerism. It makes me consider questions like need versus want, brand new versus good enough. Caring for and storing belongings takes time, energy and space. We need to be conscious of our choices so we are in control of our spending and not vice versa.
The final reason I love second hand stores is that they are fun places to browse, even if we don't buy anything. Macklemore and Ryan Lewis are right: hunting, looking, and finding hidden treasures makes second hand shopping an adventure. Thrift stores are always interesting, and you never know what you are going to discover.