Jan and I were in Ferndale today grabbing tickets for Theatre Bizarre so we stopped into i3 Detroit for a quick tour. We'd seen their work at the last couple Detroit Maker Faires, and Jan and I both took seminars from a member at Up in the Aether. i3 Detroit is a member-run community workspace with reasonable monthly rates, classes, and regularly scheduled meetings. We'd meant to check out their space for awhile, and this was our chance.
A team was busy packing up for Burning Man but they graciously gave us the grand tour anyway. (Wanna tour yourself? Consider scheduling one by emailing: contact@i3detroit.com) Like any maker space, i3 Detroit packs an impressive collection of gear inside their unassuming facade but what struck me about i3 Detroit was the unpretentious, down and dirty quality of their equipment. Sure they had the usual wonders like a couple 150W laser engraver/cutters, a metal lathe, a small collection of 3-D printers, a stack of welding gear, a honking big Shop Safe table saw, etc but members had also cobbled together a linux-based plasma cutter, a home-rolled vacu-form machine and there were also a couple industrial strength injection molding devices, a cone 6 ceramic kiln and a Bridgeport milling unit, y'know, sitting around, just chilling. Their craft area had devices that quite literally, I had no idea what they did — which excited me to no end. The electronics room is tidy, well-stocked and meticulously organized. i3 Detroit is indeed a wonderland for those with busy hands and wild imaginations.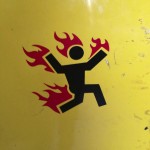 The biggest delight in any makerspace, for me anyway, are the bits of projects either abandoned or in process. Jan's favorite at i3Detroit were the "bunk couches," a nifty arrangement of 2x4s, plywood and ingenuity, that allowed comfortable seating with minimal floorspace: i.e. stacked loveseats. I kinda dug their signage, obviously cut with the vinyl cutter on premises. The signs for the bathroom, showing a stick figure in obvious bodily distress were amusing but the flammable storage sign really caught my eye. A starship assembled from autoparts, I think, hung from the ceiling and heck, even the bin where aluminum scrap was collected told the tale of many ultra-cool endeavors.
i3 Detroit has recently been recognized by RedBull as evidenced by a fridge well stocked with the stuff as well as the 40 W laser they received as prize. I'm a fairly experienced maker and I was pretty impressed by the low-key variety of stuff and tools available at i3Detroit. If you're based in the Detroit area and don't have access to the means to produce your wildest dreams, check out i3 Detroit.