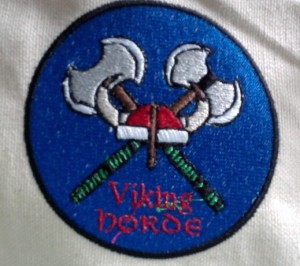 I took a class at Maker Works in Ann Arbor recently, and this patch was my take-home project. It wasn't quite DIY (or do-it-myself) because I had a lot of instruction and assistance from Casey the workshop leader, but the 2 hour workshop certified me to use the Amaya Bravo 16-needle embroidery machine to work on my own designs whenever I want to schedule a block of time to work. It's only a matter of time before I'm cranking out logo-ed swag for the 20 Minute Garden, the Daily Nightmare, Why Not Pie, and who knows what else.
20 Minute Jim was thrilled when Maker Works was launched in 2011. He's written about Maker Works previously and has taken a couple of classes there too. For a while, he's been nudging me to visit and check out the premises. So on June 11, when we were gathering freebies & deals around town to celebrate his birthday, we made a point to stop by the Maker Works building for a tour. We were in that neighborhood to pick up birthday deal coffee, cheese and bread (thanks, Zingermans!) I expected that we might get a 5 or 10 minute walk-through, but the desk staff person generously provided more than an hour of his attention and a wealth of information about the resources, policies, and procedures of the Maker Works studio.
The Maker Works space is bigger than I imagined it. It's divided into five sections, and it's stocked with high-end equipment available for use by members. Memberships are available for individuals, families, and businesses; there are discounts for students and veterans; and there's also a day pass option. Maker Works also offers ways for members to earn credit toward membership in the form of doing tasks or jobs there. It's a business but it's modeled to be welcoming and inclusive.
We had heard one of the founders, Tom Root, speak at the Ann Arbor Maker Faire last month, and he mentioned the example of lawnmower ownership as part of the impetus for a place like Maker Works. We each have our own lawnmowers that we use for an hour or two every week or two, and meanwhile those lawnmowers take up space being stored in our garages. Maker Works takes as its premise the idea that tools are made to be shared.
And so is knowledge. One of the perks of going for a tour was a discount for class registration, and Jim double-dog dared me to register for something on the spot. I picked the embroidery machine class– because I know something about sewing, but the machine is a pretty complex big sibling to my little Singer. Casey packed a lot of information into the 2 hour workshop on the Amaya Bravo. Much of it came straight out of the SOP (Standard Operating Procedures) Manual that is prominently displayed at each tool workstation. When I realized I didn't need to be taking notes, I was better able to concentrate on the wondrous workings of the Amaya.
I'm a product of the 1970's public school system, so I grew up with the expectation that shop classes were part of the elective offerings available to all students. The overall trend in our schools, however, is away from electives, especially those hands-on, tech-type electives that teach skills rather than academics. It's been sad to see those disappear from the educational landscape– and it's another reason why place like Maker Works are even more valuable and important.
We all need opportunities to be creative and inventive. We need the tools and the skills to use them safely and properly too. We need the encouragement to try new things and learn. Maker Works provides all of the above for a reasonable fee, so I'm sure they will be seeing more of us in the future.