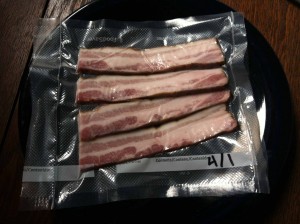 We have some great neighbors– as evidenced by this home-made bacon, which we got in exchange for a pie, which we had given as a thank-you for the many incidences of walk-shoveling executed by our neighbors this winter. Does this make sense? In my mind, we are clearly coming out ahead.
When our former great neighbors, Peter and Julie, put the house up for sale a couple years back, I have to admit that we were worried. What is our new neighbors were scary? (Now that I think about it, that was probably the plot of one of the Bernstein Bears books I read to our children two decades back.) Like family, you don't get to pick your neighbors, but there they are, in or very near your space. The new people could have been neat-freeks or chemical spray on the lawn types– which were some of my worst case scenarios.
Our yard, like our house, is not what many people would consider a showpiece. I do, but I think my standards are different. (My friend Amy once called our house "lived in", which I took as a compliment on the deepest level.) We fully occupy this space. Our habitat, inside and out, is a unique, busy and in-transition place. It's more than 100 years old, so there is always something to do, but moreover, there is always a lot going on, and much of that is still in process. Our space is full of projects– some big, some small, and many hard to ignore.
After a young couple made an offer on the house, Peter mentioned that the husband was a brewer, which we took as a good sign. Brewers are often tinkers or makers, so we had reason to be hopeful. At least we'd have something to talk about.
From the bacon alone, you can see we hit the neighbor jackpot with Greg and Emily. The new family is significantly neater than us, but we haven't faced any condemnation from them; in fact, they seem interested in the various projects we tend to put in our yard. They are friendly and kind. We have been spoiled with the snow-shoveling assistance, to put it mildly.
Neighbors everywhere could learn a few things from them about how to act with generosity. I'm hoping to learn how to make home-made bacon and kimchi, and then I'll make them some more pies. Having good neighbors is a win-win, win-again situation.