Winter is long is Michigan. It feels especially long this week. Mid-January is when the cold gets serious, and although the sun shines quite brightly at times and the days are already getting longer, the sun isn't doing much to provide warmth. We humans are inside a lot of the time, and even then the air feels chilly.
Our indoor plants take on a special glow when they are the only thing growing.
Here's my cheery, beautiful double pink African violet.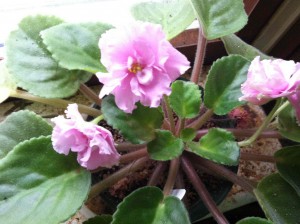 Last March, I stood at a booth at the Taylor Garden Clubs Growing Great Gardens conference and debated about whether I needed another African violet. One of my gardening friends encouraged me to pick one out to take home. She said, "Every time you look at the plant, you'll remember what a wonderful day we had at the conference."
It was a simple purchase which has come to mean more as the year has gone by. My friend was right: every time I see or water the plant, I think of that day and of my gardening friends.
Now, in the dark cold days of January, the pink blossoms that remind me of growth and hope. Hang in there. Spring is coming.