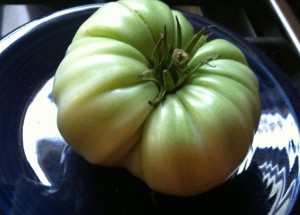 As the gardening season comes to a close, you may find yourself with more harvest than you know how you'll use. You might even be tired of something– say, greens. Or you may be feeling generous and want to share your bounty. Any of those are good reasons to donate your fresh garden produce to Food Gatherers.
This time of year, gardens may still be producing kale, broccoli, turnips, collards, squash, and even tomatoes, if those were covered during the frost episodes. Peas, lettuces, and beans may also be available if a second crop were planted.
Food Gatherers will take them all. I was particularly interested to find out that Food Gatherers will accept any amount of red or green tomatoes that are not bruised or damaged. Gardeners who want to clear out the beds can sort and wash tomatoes, and then take them to Food Gatherers for distribution.
Food Gatherers accepts drop off donations of any fresh garden produce at the Food Gatherers' warehouse Monday through Friday from 9 a.m.-5 p.m. They will weigh your produce upon donation; it's always neat to see how much you have grown yourself that you can afford to share.
Keep in mind that Food Gatherers accepts donations of fresh home-grown produce throughout the gardening season. Some gardeners participate in the Plant a Row program, and then they designate garden space to growing food to help the hungry.
If you live outside the Food Gatherers area, you could check with your local food bank programs to find a place that will accept fresh produce.