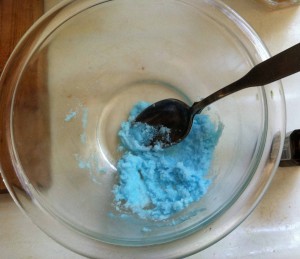 Many gardeners are motivated to garden organically is because they want to use fewer chemicals in their lives. Chemicals work — thank heavens for antibiotics and sterile environments where they are needed– but in many cases, chemical treatments in a garden or home are an overkill for a problem. I certainly sympathize with any gardeners suffering the disappointment and inconvenience of an insect invasion; it happens to all of us, and I don't enjoy having my vegetables nibbled by pests either. Much of the time, however, pests can be controlled through integrated pest management, which simply put is a chemical-free system that focuses on knowing the problems to watch for, keeping plants healthy, using plant cover, mulching, and hand picking insects. Truly, killing all insects is impossible and undesirable, from a sustaining life on earth point of view.
We garden organically because it makes the most sense to us and through years of gardening, we've seen organic methods work in our own vegetable, herb and flower gardens. For me, gardening organically means learning to tolerate a little more imperfection. It means planting a little extra, realizing that the gardener probably won't get all the harvest. On the other hand, if no other living things wanted to eat what grows in my garden, that would tell me something about the quality of what I am growing too.
Likewise, inside the house, I'm often looking for ways to lessen the use of chemicals.
One of my big finds a decade back was the book Better Basics for the Home: Simple Solutions for Less Toxic Living
by Annie Berthold-Bond. She notes that in past times, families handed down household recipe books, that contained recipes for cleaning as well as recipes for cooking. Her book provides many recipes that use ingredients that are "generally regarded as safe" (GRAS) to make mixtures for housekeeping, skin care, gardening, pets, and hobbies. GRAS substances include things like baking soda, washing soda, vinegar, and borax.
Here's one of my favorite quick and easy recipes for homemade antibacterial soft scrub cleaner. I like to use it for cleaning the tile and grout in the shower stall.
Antibacterial Soft Scrubber

1/ 4 cup baking soda
1/ 4 cup borax
Enough liquid soap or detergent to make a frosting like consistency
15 drops of tea tree oil

Place the baking soda and borax in a bowl. Add the tea tree oil, then slowly add the liquid soap, stirring all the time, until the consistency reaches that of frosting.

Scoop the mixture with a sponge, wipe the surfaces to clean, then rinse.

This takes about a minute to prepare. Only make what you will use up because the mixture will dry out.
If you are looking for more ways to lessen your use of cleaners and produces with labels like "Poison", "Warning" or "Caution", you should check out Annie Berthold-Bond's Better Basics for the Home book as well as her website.