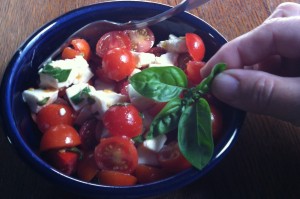 If there were a wacky new rule implemented or a Survivor-style reality show for gardeners where I could only grow one vegetable, I would, without a doubt, choose the tomato. The tomato is the backbone of my garden; it's the plant that feeds us year round. At the height of the tomato season, we eat as many fresh and lightly-prepared as possible and then can or freeze or dry whatever other tomatoes we are able to spare.
Overall, it's not been a great tomato year for our garden. The weird weather might be why the plants haven't thrived, but it's hard to say exactly which factors are most influential. I wonder if the weather hasn't also been rough on some of the neighborhood wildlife, specifically squirrels and the occasional skunk, who seem to be nibbling on the fruits of our garden more than usual. I remain hopeful that the season isn't really over yet and that we'll have tomatoes ripening for weeks to come.
Still, a great day is one when tomatoes feature at each meal of the day, and we were fortunate to have several of those lately. Here's some recipe highlights from one typical, tomato-blessed day.
Breakfast: Omelette with tomatoes and onions
There is lots of differing advice about how to make omelettes, but I took several important lessons from Julie Child in an episode of The French Chef. The essential elements are a non-stick pan heated very hot and a short cooking time where the pan is kept moving. She recommended butter whereas I cut calories with cooking spray.
Ingredients (for one omelette)
2 – 3 eggs, beaten
2 Tablespoons onions, previously sauteed
1 small fresh chopped tomatoes, drained
1 Tablespoon parmesan cheese

Method:
1. Heat pan to very hot, then pour in eggs. Tilt pan and swirl as you cook so that the uncooked egg can have contact with the pan (but do not stir). Lift cooked edge with a thin spatula to allow egg to run underneath. (For more details and illustrations, see Mastering the Art of French Cooking by Julie Child et al) The cooking process should take about 1 minute in my opinion, 30 second in hers.
2. Turn off the heat. Add pre-cooked onions and chopped tomatoes. Sprinkle with cheese.
3. Fold over using a spatula and serve as quickly as possible.
Lunch: The Salad We Can't Stop Eating

We are crazy about this super easy fresh tomato salad. We enjoy using rice wine vinegar in the salad but other types of vinegar can be used for variety.
Ingredients:
3 perfectly ripe tomatoes or 1-2 cups of cherry tomatoes
1/ 4 pound of fresh-style mozzarella cheese (like BelGioioso brand)
2 teaspoons olive oil
2 tablespoons seasoned rice wine vinegar
4 leaves of fresh basil
salt, to taste

Method:
1. Chop tomatoes into bite-sized pieces. If using cherry tomatoes, slice each one in half. Place in bowl.
2. Cut cheese into 1/ 2 inch pieces. Add to tomatoes
3. Drizzle with olive oil and stir gently.
4. Sprinkle on rice wine vinegar and stir gently.
5. Top with basil and salt.
Dinner: Grilled Tomatoes
Grilling tomatoes does not take long at all, and they are an easy addition to a meal. Cook them when the rest of the meal is nearly done.
Ingredients:

4 or more fresh tomatoes
olive oil
salt and pepper to taste

Method:
1. Heat the grill to medium high.
2. Slice the tomatoes in half and place on a tray. Drizzle or brush with olive oil, both on the cut side and the other side. Sprinkle with salt and pepper.
3. Place tomatoes on heated grill until tomatoes start to sizzle and grill marks appear– about 4 or 5 minutes. Turn the tomatoes and grill for another 4 minutes.

Variations on this recipe include adding garlic or herbs.
Sadly, it does not appear that, for us, 2012 will be a "year of too many tomatoes." These simple recipes and techniques are helping us savor every ripe tomato we harvest.