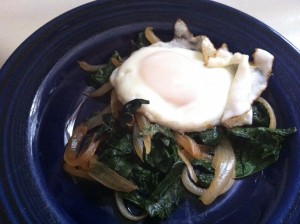 This time of year is a turning point in the garden. The plants are not just pretty but, increasingly, a source for real food. Today we had a meal based on greens that came straight from the garden.
For a quick brunch, I cut up a large vidalia onion. I sautéed the onion in olive oil for a few minutes, and then put the lid to let the onion continue to steam in the pan while I gathered the greens.
When I headed out into the garden, I took along our well-loved salad spinner as a bowl to gather kale of various types as well as a few other greens. I prepared the greens as I harvested, taking out the central ribs of the kale and tearing them into medium-sized pieces. We are growing regular, curly, and dinosaur kale; they cook and taste pretty much the same so my harvesting pattern is to take a leaf or two from each plant. I also picked some broccoli rabe (or rapini), a plant that I like even if I'm not exactly sure what to do with it. Much of the broccoli rabe had gone to flower, but then I trimmed it back so we have continued to gather leaves. As well, I gathered up some lamb's quarters, a wild green that we have become very fond of, that is easy to identify, plentiful, and rich in nutrients.
In the kitchen, I gave the greens a thorough rinse and a spin in the salad spinner. It's not necessary or even a good idea to get them completely dry; a bit of moisture on the leaves helps with the cooking and steaming process.
With the pan hot again, add all of the greens at once. Initially, it looks like way too many greens, but they shrink as the cook so don't be deceived. Stir to keep the greens moving and the heat distributed and so the greens do not stick. We like them firm but tender so cook until they are wilted but not mushy, about 5 minutes. I added a tablespoon of soy sauce at the end to season the greens. Put the lid on so the greens continue to cook while the eggs are prepared.
We like eggs sunny-side up with greens, but any pan-prepared egg would work as well.
Plate up the meal with greens on the bottom and top with eggs. Salt and pepper as desired.
In short order, we enjoyed our greens and eggs on the front porch– and didn't miss the ham.