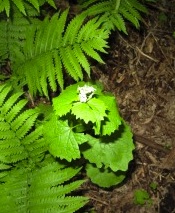 Community members are invited to participate in a Garlic Mustard Pull at the Huron Hills Golf Course on Saturday, April 21 between 10 am and 1 pm. The event will take place across the street from 3115 Hunting Valley Road, Ann Arbor, Michigan, 48104.
Volunteers will be led by Eagle Scout Michael Saunders of Troop 4 in Ann Arbor. This will be the third Garlic Mustard pull in this area in the last three years. This project is being overseen by the Natural Area Preservation (NAP) division of the City of Ann Arbor.
Garlic Mustard is an invasive species that poses a severe threat to our natural areas, if left unchecked. It's a problem in many places in Michigan, including the Huron Hills Golf Course. Garlic Mustard is an aggressive plant that crowds out native plant species and causing a lack of food for many native animals. It's able to outcompete native plants for sunlight, nutrients, moisture, soil and space– all the elements native plants need to thrive.
This Garlic Mustard Pull event is open to all interested community members. All volunteers must have a signed liability form, and those under the age of 18 need to have the form signed by their parent or guardian. More information including the flyer waiver form, and a map to the meeting area are available at the following site:
http://sitemaker.umich.edu/troop4/current_troop_events___calendars
The National Park Services notes that "Recognition of garlic mustard is critical." The more people who are aware of and on the lookout for this plant, the better our chances of eliminating it. This an opportunity to become educated about the threat of Garlic Mustard to our green spaces and to our native plants and animals as well as an opportunity to help eliminate this problem at Huron Hills Golf Course.