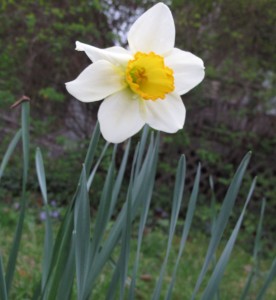 The weather conditions so far this spring have been very accommodating to blooming plants. Like me, you may have noticed that the redbud, crabapple, and other flowering trees have been stunning. The forsythia stands I passed positively glowed with blossoms. The daffodils and tulips on displays have also been delightful. I'm waiting anxiously to see the neighborhood spirea and lilacs come into bloom.
It's enough to make a gardener jealous, especially if said gardener is not the type to plan ahead.
Although one can be consoled with a host of spring-planted bulbs or spice up a garden with the quick color of annuals, there's nothing quite like the almost-effortless, dependable pleasure brought about by the yearly performance of spring blooming perennials. Especially in March or April, when soggy ground and frost warnings give us pause in starting our schemes, perennials make us feel like gardeners– even while we are waiting for the arrival of "real" gardening weather.
Adding perennials to the garden takes some planning however. Bulbs like daffodils and tulips need to be planted in the fall to be enjoyed as flowers in the spring. Trees and shrubs take time to plant and to become mature enough to blossom.
These suggestions that follow may seem a bit obvious, but I accomplish great things in both home and garden with the "Notes to self" method. Keeping track of gardening wishes is easier when they are made into concrete, written down garden plans.
Here are some ways to bring more perennials into your life.
* Note the plants that make you sigh with joy. If possible, ask owners or experts the names of those plants. Otherwise, note their growth habits so that when you attempt to tell the person at the garden center about the plant you want, you can describe it in detail.
*Pay attention to garden designs that you like and analyze what specific features you like. Do you prefer mixed colors of tulips or a stand of just a single color? Bunches or rows? Since there isn't a singular "right way", notice the designs that appeal to you the most so that you can replicate them in your own space.
* Learn about the plants you love. Information abounds at garden centers as well as libraries, bookstores, or garden clubs. The more you know about a plant, its habits, preferences, and needs, the better your chance of selecting something suitable that can thrive in the place you have in mind.
* Put in plants at the appropriate time. Again, this might seem like a no-brainer, but money is most often wasted on plants that have little chance of thriving due to planting against their habits. Does it need sun or tolerate shade? It is tolerant of poor soil or soggy roots? These are good attributes to know ahead of time. The best time to plant bare root plants is when they are dormant in the spring or fall. Balled and burlapped plants can usually be planted throughout the growing season. Keep in mind that many plants will have a hard time with being transplanted during the height of summer. If you see a great deal out of season, think about how much of a gamble you are willing to take.
* Make a note on the calendar to remember to plant tulips, daffodils, crocus or fragrant hyacinth in September or October. You might miss the note in the back to school rush, but you may also be reminded that you want to plant bulbs come fall.
A couple years back, we added 100 daffodil bulbs to an area that previously had only 2 dozen bulbs. It was something we'd meant to do for more than one season. The project wasn't even that much work, just another thing to do that finally got done. The payoff comes each spring when the welcoming faces still feel like a head-start, a wake-up call, and an almost-instant garden.