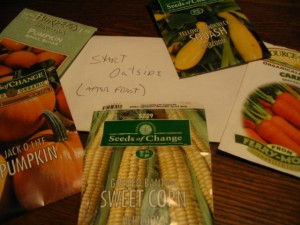 The new Master Gardener Talk Series continues on March 15 with a presentation on Starting Plants from Seed. The talk begins at 6 pm at Nicola's Books (2513 Jackson Rd., Ann Arbor, MI 48103).
At this presentation, you'll learn how to and when to plant seeds and how care for them, resulting in vegetable and flower plants for your garden beds. Join with local garden enthusiasts to gain information and tips on beginning your garden in an economical fashion.
Future talks are scheduled for the second Monday of each month. Planned topics include The "Dirt" on Soils, Fertilizers, etc. (April 9) and Shade Gardens and Spring Ephemerals (May 14).
The talk will be led by Master Gardener Alumni of the Wastenaw County Association. Master Gardeners are enthusiastic gardeners/volunteers trained by the Extension Service in horticultural information and research-based gardening methods. For more information about the local MSU Extension program, see their website.
Plan to join this informative discussion that will aid in making this year's garden starts successful.