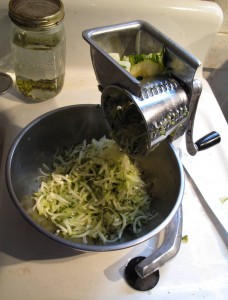 A couple of days ago, I had 2 huge zucchini still hanging around. My plan was to shred them. I was just waiting for some inspiration.
I complained to Jim that I wasn't excited about the prospect of shredding all that zucchini, and he directed my attention to a mysterious kitchen object that we inherited some years ago and promptly stored unused in our basement. The promise of a task made easier was enough motivation for me to dig it out to give it a try.
I didn't know what to call this device, but some quick research on the internet revealed that we own a vintage Saladmaster food processor. Very easy to assemble and use, it made relatively quick and easy work of my lingering zucchini and for that I was pleased.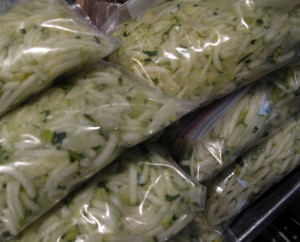 Unlike most gardeners, we have never had a zucchini bounty to contend with–until this year. In the past, we've averaged maybe one zucchini per plant– nothing to get alarmed about! This year, the zucchini just kept coming. I don't know what we did right to make our plants so happy, but I'm afraid we have to chalk it up to part of the mystery that is gardening.
We enjoyed some delicate zucchini dishes with small, tender zucchini stir-fried among veggies eaten over rice or sauté with a pasta sauce. A few zucchini managed to hide themselves under those huge leaves or otherwise elude us until we had a whale on our hands.
Fortunately, we discovered a zucchini bread recipe that we like. The tasty loaves disappeared almost as quickly as banana bread so the recipe is a keeper. I've popped the 2 cup freezer bags of shredded zucchini into the deep freeze to keep us in zucchini bread all winter long.
Zucchini Bread
(adapted from a low carb zucchini bread recipe from the Livestrong website)

Ingredients:
2 eggs
¼ cup vegetable oil
½ cup brown sugar
2 cups shredded zucchini
1 teaspoon vanilla
? cup almond flour
½ cup pecan meal
¾ cup flour
1 scoop whey protein powder
1 teaspoon salt

Method
1. In a large bowl, beat eggs.
2. Add oil, sugar, zucchini, and vanilla.
3. In a separate bowl, combine remaining ingredients.
4. Add dry ingredients to wet, mixing well.
5. Pour into a prepared loaf pan.
6. Bake at 350 F for about 60 minutes. Test center with a clean knife to make sure it's done.
Cool, slice and enjoy!