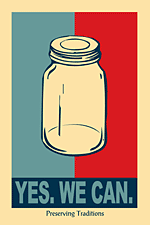 If you've never canned, you may think it requires extensive experience and arcane knowledge. Actually, learning to can is a fairly simple process that requires following steps and attention to details– not unlike most cooking processes.
This Sunday, you can learn to preserve apples by canning applesauce in a Preserving Traditions class. The workshop will be held on Sunday, October 2 from 2pm until 5pm at the Pittsfield Grange.
This is a hands-on workshop where participants will learn to make and can applesauce. Each participant needs to bring about 3 large apples (preferably 2 sweet and 1 tart) and a pint-sized canning jar with band and a new lid. Everyone attending will get to take home a pint of home-canned applesauce. Canning apple pie filling and apple butter will also be discussed.
If you want to participate, register early because the events do fill up. The cost for the workshop is a $5 suggested donation for non-members of the Grange. To attend, register here.
Preserving Traditions continues to offer great workshops that give participants skills in home food preservation. The events are always informative and fun. We're lucky to have such a group in our area teaching skills to individuals and enriching our community.