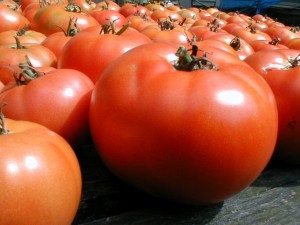 If you've always wanted to learn to can tomatoes, you have an opportunity to do so tomorrow at an event sponsored by Preserving Traditions and the People's Food Co-op. The workshop will be held on Sunday, September 5 from 2pm until 5pm at the Pittsfield Grange.
Participants in the workshop will learn the basics of which foods may be canned and how to can. Each participant needs to bring about 2 pounds (a heaping quart) of ripe tomatoes and a pint-sized canning jar with band and a new lid. Everyone attending will get to take home a pint of home-canned tomatoes.
The cost for the workshop is a $5 suggested donation. To attend, register here. Register early because the events do fill up.
I have attended several events hosted by Preserving Traditions, and, without exception, they have been great. I'm always happy I went. I have learned to make pierogies, a variety of kale recipes, and cheese-making. The workshops are always welcoming to the newbie and the experienced person alike. These fun, hand-on events give a cook the skills and confidence to enjoy the bounty of their gardens and prepare local foodstuffs for the months ahead.