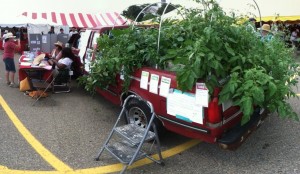 A great vegetable garden doesn't have to take up the whole yard– as evidenced by Growing Hope's Clifford the Truck Farm.
You may have seen him at events around Ypsilanti or Ann Arbor. We caught up with Clifford at the MakerFaire last month at the Henry Ford Museum in Dearborn.
Clifford reminds us that, with a bit of planning and ingenuity, a small garden can produce a load of food!