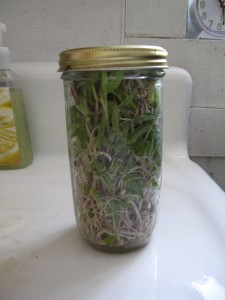 Are you itching to get out in the garden and grow something? Are you plotting and dreaming as you watch the snow and ice melt– and then magically re-appear? If you are an experienced gardener, you know in your heart of hearts that it'll be weeks before the ground is warm and dry enough to do anything with. If you are a garden newbie, just trust me– your digging days are still in the future!
What's a cooped-up gardener to do? Sprout something tasty! Sprouting seeds, in this case, mung beans is easy, fun, and nutritious as well as speedy. Sprouting seeds is also a simple and amazing activity to do with children– a science lesson that ends with a meal. Little ones might be more interested in trying or eating something that they helped grow. Start some sprouts today and you'll be eating them in a week!
Here are some tips for getting started. Our very easy and flexible recipe for Egg Foo Young follows.
The equipment requirements are very simple. You'll need a wide-mouth quart-size canning jar. Another clean jar with straight sides would work as well. You'll need a ring that fits the top, which is why a canning jar and ring works nicely. You'll also need a piece of cheese cloth or other thin woven cloth fits inside the ring. A couple of years ago, I bought a nifty little round piece of screen that works well in place of the cheese cloth at the People's Food Co-op. Finally, you'll need a tablespoon of mung beans, which I buy in bulk from the People's Food Co-op again, but is probably available in grocery stores and bulk food stores.
To get started, put the mung beans in the jar, cover with the cheese cloth and twist on the ring. Rinse the seeds thoroughly with cool water. Drain them well. And set them aside for 8 to 12 hours. Repeat the rinsing and draining process. That's pretty much all you need to do. The indirect light of a kitchen window provides enough sunshine for the soon-growing seeds. Avoid placing the jar in direct sunlight as that will dry out the sprouts too quickly. Small sprouts will emerge usually within 24 hours. We usually let ours grow for 6 to 8 days in order to fill the jar and generate enough sprouts for a delicious meal of Egg Foo Young.
Egg Foo Young
Ingredients:
1 large onion, sliced
2 cups of fresh mung bean sprouts
1 tsp salt
1 cups of egg whites and 3 whole eggs, well-beaten ( or 6 eggs, well-beaten)
Method: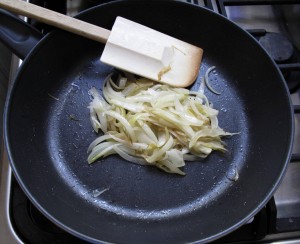 1. Saute the onion until soft and golden.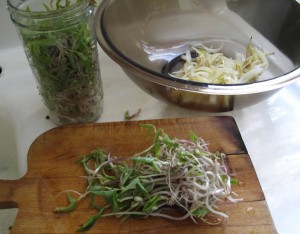 2. Wash and chop your sprouts into 2 or 3 inch lengths.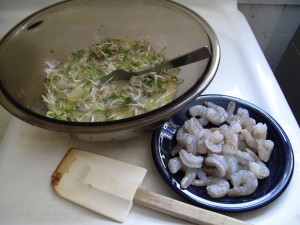 3. In a bowl, combine 1 cup egg whites with 3 whole eggs.
Add the cooked onions and the chopped bean sprouts to the bowl and stir well to combine. Add in any other variations from below that you desire.
4. Once all your ingredients are combined, get your non-stick pan nice and hot over a medium-high heat. Use a little cooking spray and a touch of oil in the pan to achieve patties that are light and not greasy.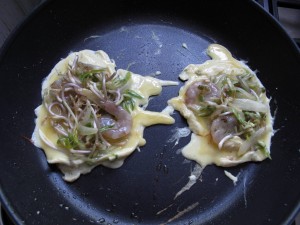 5. Stir egg mixture just before cooking and, using a ladle, scoop out 1/3 cup and add to your hot pan. I use a rubber heat-tolerant spatula to "tame" the egg and keep the structure patty-like as it cooks.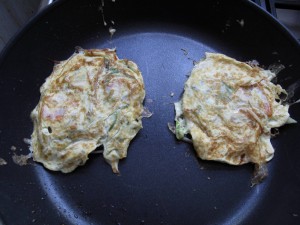 6. Watch for the egg to cook and, if using raw shrimp, for the shrimp to turn slightly pink. Then it's time to flip, for which I use the other kind of spatula, AKA the pancake turner.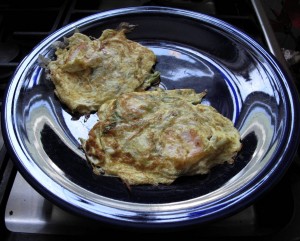 7. The patties cook just a couple minutes more, until the egg is set and, if applicable, the shrimp are cooked. The plate up and enjoy!
Variations:
• ½- 1 cup of vegetables like chopped or shredded carrots, peas, celery, spinach, peppers or other favorites, like water chestnuts or bamboo shoots
• ½ pound of raw peeled shrimp, which will cook in the same time it takes to make your patties
• 1/2 pound of left-over, pre-cooked ground beef, pork, chicken.
• small chunks of tofu
Sauce
We don't care for the gravy sometimes served with Egg Foo Yung at many Chinese restaurants in the US. Instead we mix equal amounts of soy sauce, mirin, and rice wine vinegar to make a thin sauce that's also good for dipping dumplings. Soy sauce alone also works for us.
We sometimes get out of the habit of sprouting seeds. Getting back on track with sprouting beans is very easy however, and I'm going to start some today! Sprouting seeds is an easy and fun way to eat something fresh and homegrown, even in winter.