"Plant one seed and forever a gardener be."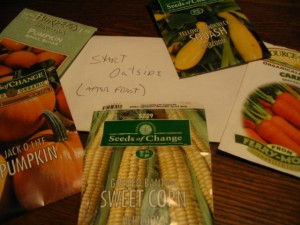 I don't know who said that. It may well have been me because that sentiment summarizes my history with gardening.
Seeds are one of the most seductive aspects of gardening. The display racks found at the garden store and other locations are so mesmerizing and full of potential. The brightly colored packages often sport a lovely picture of a fully mature specimen on the front with a small amount of tiny writing on the back, which seems to imply that the journey from the tiny seed in the package to the hand-sized tomato or head-sized pumpkin is a short and easy path. And seeds cost so very little! For the price of a head of lettuce in winter, one can get seeds for heaven-only-knows how many future heads of lettuce! It's truly amazing.
It's also extremely easy to end up with more seeds than we know what to do with!
One way we attempt to be wise and thoughtful shoppers for seeds is to plan ahead. We take the time to review and catalog the leftovers from the previous year so that we don't duplicate our purchases. Making and carrying a list is a great way to prevent unnecessary purchases; it's easy to forget what kind or how many carrot seeds are at home when faced with 8 or 10 new choices. We also like to look at print seed catalogs and online catalogs. Those collections are inspiring as well, and we have time to contemplate our purchases.
There are a multitude of seed companies, but we like to steer our business toward those that specialize in heirloom varieties, open pollination, and non-GMO seeds. Two of our favorite seed companies are Baker Creek Heirloom Seeds and Seeds of Change. Baker Creek boasts more than 1400 varieties of seeds, and Seeds of Changes has more than 1200 varieties, so there are plenty of choices. Both of these websites are full of informative about gardening, including vegetables and flowers, how-to's, soil amendments, extending the season. There are gardeners' forums and information about what terms like heirloom, open pollination and non-GMO mean if you want to get an understanding of those concepts . Even if you don't order seeds online, these websites are wonderful resources for gardeners.
It's the time of year to start thinking about what to grow in the garden this season and, if seeds are your thing too, about what to order and from where. Where are your favorite places to order or purchase seeds?
Our next post will information about an upcoming Seed Swap and other ways to obtain inexpensive or free seeds.