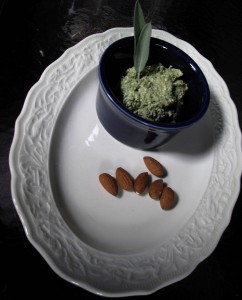 As many kitchen gardeners know, sage is an easily grown perennial herb. Even our Michigan climate, a sage plant will almost always survive the winter and thrive again in the spring. Sage plants can get quite large, growing 1-2 feet tall and 2-3 feet wide. In the mid-summer, the plant has lovely spikes of blooms ranging from pink to a deep purple-blue. Sage is happiest with adequate sun and warmth– and without over-watering. Frequent harvest and pruning are also good for sage plants. The plants produce many leaves, which are good for uses other than just flavoring the stuffing for the Thanksgiving turkey.
Recently, I came upon a recipe for Sage Pesto, and I was immediately intrigued. We make and eat a lot of basil pesto but a pesto made from sage was news to me.
I found this use for sage during our occasional vegetarian experimentation revival so the particular recipe from Skinny Bitch in the Kitch: Kick-Ass Recipes for Hungry Girls Who Want to Stop Cooking Crap (and Start Looking Hot!)
" by Rory Freedman and Kim Barnouin was actually vegan. (If a reader can get past their hard-sell veganism and their slangy prose, that reader might discover some fresh recipe ideas.) Their recipes called for soy cream cheese, which we don't care for, and more olive oil than I thought was necessary. I made my own version, and I served it with frozen mini ravioli for a quick and easy supper. To me, sage pesto has a stronger taste than basil pesto, but it was altogether pleasing in small quantities. I served the sage pesto on the side so we could add as little or much as we desired to the ravioli.
Sage Pesto
(makes approx. 1 cup)

1/4 cup whole almonds
2 cloves garlic
1/4 cup olive oil, plus more for storing
1 cup fresh sage leaves
1/2 cups fresh Italian parsley leaves
4 ounces cream cheese
1/2 teaspoon sea salt
1/8 teaspoon pepper

Pulse the ingredients in a food processor in the order given. Scrape down the sides as necessary and continue pulsing to achieve a uniform consistency.

Serve on hot pasta or use as a tasty spread.

If desired, place sage pesto in a container and top off with olive oil to store.
Now is the time to harvest sage, if you haven't already done so. A few branches clipped, tied together, and hung in the kitchen dries easily in a week. The sage bough makes a suitable fall decoration and will be ready and waiting for Thanksgiving.