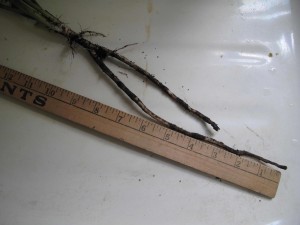 I am reminded of that folk tale about the simpleton-hero who amuses himself by swatting flies. He practiced until he was able to kill seven flies at once. He commemorated this ability by embroidering a sash that said "Seven at One Stroke" which he wore proudly. I think the tale continues that an ogre was preparing to do battle with the simpleton, until the ogre read the sash and instead ran away, thinking that the simpleton had killed seven creatures more fearsome than house flies.
I feel a bit like that simpleton-hero today in my foolish pride for my weed-pulling abilities. I was able to extract a dandelion with a root at least 9″ long. It required a firm and steady hand… and truth be told, it also required the fluffy "chocolate cake" soil we've been developing for a decade. Still, when I pulled that root from the ground, I felt like I was pulling Excalibur from the stone.
I have no illusions that I've really "got" all the dandelion. If you look closely, the very tip of the root broke off and will likely grow back. But I don't sweat that. In fact, I appreciate my deep-rooted weeds because they are collecting nutrients from far down in the soil and I can reclaim when I use the weeds as mulch or compost. I know I'm "supposed" to worry about transmitting weed seeds when I put weeds to work like that, but really around the garden at least, I'm too foolish to worry much.
Now where do you suppose I can get a sash embroidered around here?
Does anyone else have any weed-triumph tales that you would like to share?