It's officially summer because we just had our first fresh basil pesto pasta meal of the year.
I don't know if it's the particular type of basil we planted or the weather conditions (lots of rain, lots of sun) so far this summer or some wacky combination of both, but this year's basil plants are looking especially good. The individual leaves are extra large– I don't remember so many huge leaves on the plants in seasons past. I easily picked the 2 cups of fresh basil leaves needed for the recipe.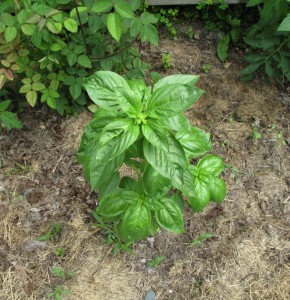 If you've never made pesto, the process might seem a little intimidating. In truth, it's really easy. If you have a food processor, a blender, or ever a mortar and pestle, you are all set. Out of habit, I most often use the blender for making pesto, even though it's a little tricky to scrape all of the pesto out of the area around the blades– but that doesn't stop me from trying! Working with a food processor with its removable blade makes that part a bit easier.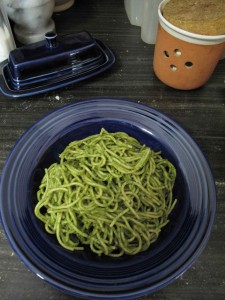 Fresh Basil Pesto

3 cloves of garlic
1/2 teaspoon salt
1/4 cup olive oil
2 cups fresh washed basil leaves
1/4 cup pine nuts
2 tablespoons soft butter
1/2 cup parmesan cheese

1. Put garlic, salt and olive oil into the blender. Blend until smooth.
2. Add washed fresh basil leaves, preferably straight from the garden. Push the basil down with a wooden spoon or scraper tool, with the blender off. Blend until smooth.
3. Add pine nuts and blend until the mixture is smooth. Then add soft butter and blend.
4. Move mixture to a bowl and stir in parmesan cheese. Thin with a little water or broth if you'd like.

Variations: Walnuts can be used instead of pine nuts, if that's what you prefer or what you have on hand. Romano cheese can be used for some or all of the cheese for a slightly different pesto.
Our favorite and simplest way to enjoy pesto is on pasta. The flavors are so intense and so fresh that the dish really doesn't need anything else to make a great meal.
There are, however, a multitude of other ways to eat pesto. Sometimes we add grilled chicken or shrimp to pesto pasta. Vegetables like asparagus, broccoli, fresh or sun-dried tomatoes can also be added alone or together for a delicious pasta meal. Pesto can also be spread on bread for sandwiches or bruschetta; for a fantastic and special grilled cheese sandwich, a layer of pesto can be added. It's great on pizza. Pesto is so popular at our house in the summer that it's a challenge to keep it on hand.