We have gotten in the habit of marking years by their culinary discoveries. 2004, for example, was the year of the Black Raspberry Daiquiri. Another year, we claimed marinated grilled chicken breasts as the dish of the year; all summer long, we marinated and grilled chicken often enough that we could tweak the recipe until we achieved perfection. In the summer of 2006, I believe, we learned how to make a darn good sangria.
2010 will be remembered in our history as the Year of the Serviceberry.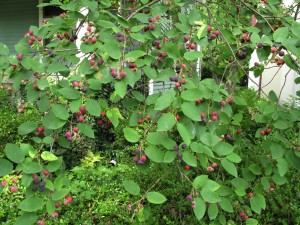 Last summer, the landscaper our neighbor hired to make her stone patio mentioned in passing that she had a serviceberry tree in her front yard. When that elicited no response from us, he continued telling us that serviceberries were in fact edible.
I don't know about anyone else, but the thought of something called a serviceberry does not trigger a mouth-watering reflex for me. Nor a yum-response. More of a shrug. The name leaves one cold.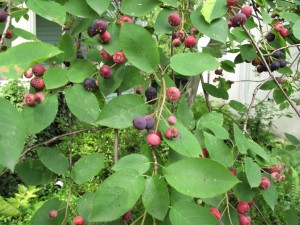 This summer, however, I stumbled upon a couple articles in our local (?) online newspaper that sang the praises of serviceberries and furthermore asserted that they were indeed edible. Linda Diane Feldt wrote about learning to identify and appreciate serviceberries. Edward Vielmetti's article included information about where serviceberry trees are planted around town. His article also referenced the various names of the Amelanchier, including juneberry, sugarplum, shadberry, or saskatoon.
And I knew what a saskatoon was! When we lived in the big city of Toronto, our best friends were rather pleased and proud to have a saskatoon bush in the front yard of their apartment house. I remember Jan picking them and, I'm pretty sure, making a pie.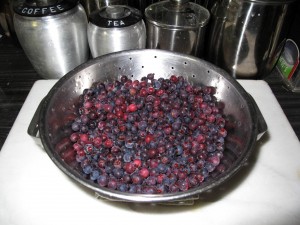 So armed with history, information and encouragement, I picked enough serviceberries to make a pie. When I gave a piece to our neighbor– the owner of the tree– she asked if I was sure it wouldn't kill her. And it didn't. In fact, she liked it a lot, maybe even better than blueberrypie. And we liked it too.
Three serviceberry pies later, I'm sharing my recipe. Next June, you can bet we won't hesitate to pick and eat and bake with serviceberries.
Serviceberry Pie

Pastry for a 2 crust pie (my recipe is here)

3/4 cup of sugar
1/4 cup all-purpose flour
1/2 teaspoon cinnamon
1/2 teaspoon nutmeg (I like fresh ground)
2 teaspoons lemon juice
1/8 teaspoon salt
5 cups serviceberries
1 tablespoon butter

1. Prepare pastry. Roll out half of pastry and line a 9-inch pie pan. Preheat oven to 425F.

2. For filling, toss together, sugar, flour, cinnamon, nutmeg, lemon juice and salt. Mix in and thoroughly coat serviceberries. Place berries in piecrust; dot with butter.

3. Roll out remaining pastry for top crust. Cut a few slashes and cover filling with slashed top crust.

Trim and tuck under to make a decorative edge.

Bake 45-50 minutes or until the piecrust is golden brown.