Maybe it's just me, but I'm not noticing a lot of change yet in the compostable Sun Chip bag as of Day 31.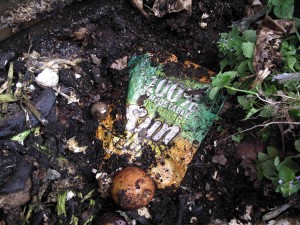 Still, decomposition is a slow process so I suppose patience is in order. Furthermore, we are just getting into "Real Spring" here in Michigan, and the temperatures are just beginning to get into the realm of nice weather with any regularity. When the weather heats up, so does the compost pile.
I also have to take into consideration the fact that my pulling back the compost to peek at the bag probably doesn't speed up the process either. I do try to rake back the "older" compost to have contact with the bag rather than just putting the fresh kitchen waste on the top.
I'll keep checking back and updating with posts and pictures.