Several years ago, Jim came across this recipe for Beer Cupcakes from Big City, Little Kitchen, but I only got around to making them this year in honor of St. Patrick's Day.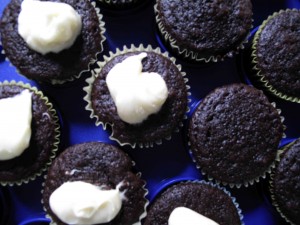 I was inspired as well by the recent appearance of a delicious stout in our house. The recipe calls for one cup of Guinness. I pulled two cups of home-brewed stout: one for the batter and one for the baker! That was the only variation I attempted on the cupcake batter.
For the frosting, I made only a small batch. I used 4 ounces of cream cheese with about 1/2 cup of sugar and a little vanilla. I wasn't sure if hand-beating would dissolve the sugar well enough (we were out of powdered sugar) but I was pleasantly surprised that the frosting came out lovely and creamy. I put a dollop of frosting on about half of the cupcakes. The plain ones disappeared almost as quickly.
These beer cupcakes are moist and delicious. I didn't find any true beer flavor, just a deep, satisfying chocolate. The recipe is really quite easy and the results were excellent. Perhaps we will establish a new St. Patrick's Day tradition.