(20-Minute Jim) I hadn't planned on brewing today mostly because the forecast I had seen called for temps in the 40's and precipitation in various formats. I was pleasantly surprised by a nearly sunny morning, but by the time I really started to believe the weather and not the weatherman, it was already 1:00 PM. Not too late too brew.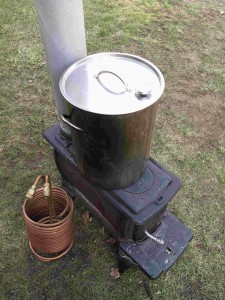 I had the ingredients – more or less – for a recipe reminiscent of Sierra Nevada Pale Ale. My home-brew club – the Ann Arbor Brewer's Guild – are in the midst of a "brewola" based around a significantly similar recipe but I didn't have the presence of mind to order a kit. I decided to assemble the closest facsimile of this recipe from what I had on hand… and of course, stoke up the backyard wood stove to give fire-brewing another go.
The recipe I followed was:
10# of Maris Otter
1/2 # Crystal (40L)
1.2 # Wheat Malt

3/4 oz Magnum (60 minutes)
1 oz Cascade (30 minutes)
1 oz Cascade (10 minutes)

Safale US -05 "American ale yeast"
I didn't have the Perle hops called for in the recipe, plus I wanted to push a bit more bitterness into my glass hence the Magnums. Since I didn't plan to brew, I again resorted to dry yeast. I continue to be impressed by the quality available in contemporary dry brewing yeasts. When I started brewing, they were barely above bread yeast.
I remember reading in a book somewhere that experiments should be done under controlled conditions. For instance, since I was "experimenting" with using a fire to boil, I probably shouldn't screw up the mash. And yet, in the words of the Bard of my people, several parts of the brew "gang aglae" so to speak. I even had "dough balls" for cryin' out loud. The words "Your Mileage May Vary" have never been so true.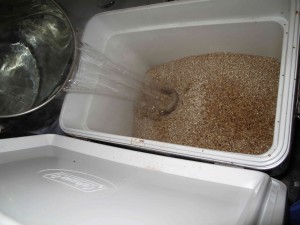 After an iodine test told me conversion was complete, the pot was on the stove at 3:00, an admirable time given my tardy start. By 3:30 it was at 170 F and it reached a nice fully rolling boil by 6:00. I gave it a stir every now and again but mostly I was free to work around in the yard.
I learned much about wood stoves since my last batch. Brew guru Mike O'Brien suggested 6 foot of chimney pipe. He also suggested that airflow could be moderated by that irritating sliding tray just under the door. Previously, I thought the purpose of this tray was to wedge itself under the door whenever I added wood, y'know, just to give me something to curse at. Mike also suggested that the flue on the chimney hole could also be used to adjust the heat. I fiddled. I futzed. I think I got the hang of it a bit better.
By the time 8:00 rolled around, I was sitting down to type out these notes. All the pots were rinsed, the yeast pitched, the compostables were in the compost. Surely not my fastest brew day but one with the glowing sense of a day well spent.