(20 Minute Jim) "Wholesome" is the word I'd use if I had to sum up the Lenten Fish Fry at St. Sebastian's in Dearborn, MI. And if I was describing just the operation, I might even say "efficient." St. Sebastian, I learned, is the patron saint of athletes so it seemed particularly fitting that the meal was served in the gymnasium/lunchroom of the parish school. Near the ceiling, the room was ringed with home-made banners featuring, presumably of the other Catholic schools that St. Sebastian plays.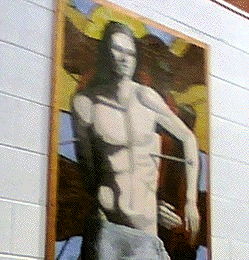 Upon entry we filled out a simple form that indicated fish: baked or fried and potatoes: baked or french fries. Yup, St. Sebastian also had baked potatoes, one of those simple marks of good eating in my book. In the main line near the kitchen, we received a dinner plate with our order. Efficiency point number one: seconds came from another line and were served on smaller plates. I also found it highly efficient that the tartar sauce and ketchup were served in prepackaged plastic rather than in dollops served in little paper cups. I should mention though that I didn't end up opening any tartar sauce because I generally have trouble opening those packages.
The meal itself was good and satisfying, but you'll probably get the idea soon enough that I haven't exactly had a bad meal at any of these Lenten fish fry dinners. In other words, find one in your area and give it a try. A couple features at St. Sebastian's stand out as worth mentioning. The baked fish was a particularly good, solid piece of meat. It was substantial and filling, nicely seasoned. The desserts were another high point, displaying both good variety and generous portions. Another nice touch was the gentleman with a rolling cart who circulated among the tables, refilling coffee and tea cups. A nice mostaccioli with red sauce, obviously meatless, was also a nice unexpected treat.
The Macaroni and Cheese was sadly not the style I most enjoy but as I've admitted previously, it's one of my snobberies. However, the mac and cheese at St. Sebastian was one of the items that tipped me off to the general wholesomeness of the fare. It struck me as particularly low in salt. I added a pinch at the table which significantly brightened up the flavor but salt, as they say, is easier to add than it is to take out.
As we were leaving, the line had grown much longer– a gentle reminder to get to any of these Lenten Fish Dinners as early as possible. As we crossed the parking lot, a warm, wet breeze reminded us that the full bloom of spring would arrive soon and, alas, the end of another season of Fish on Friday.