Believe it or not, this is the best thing I made in the Rec & Ed Ceramics class that 20minuteJim and I took last year.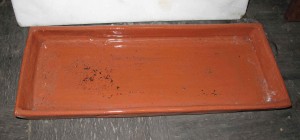 You might be wondering "Why?" as well as "What the heck is that?"

Here it is in context: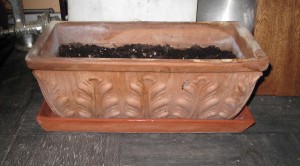 I had an idea to make a terracotta tray to go under one of the terracotta planters that we have. We usually try to winter-over our rosemary plants indoors (with differing amounts of luck and skill), but we don't have liners or trays to fit under the terracotta planters, and that sometimes results in soggy carpets or floors.
I mentioned my plan to our ceramics instructor, a laid-back teacher who made room for students to follow their own paths in class. I said I'd bring in measurements; he suggested bringing the planter to class. Brilliant suggestion, right?
Our instructor showed me how to use the slab construction method to get the size and shape I wanted in my piece. Again, having the planter in front of me while I was working allowed me to imitate as best as I could the flared angles of the planter. When I asked him about my project, I saw what a great teacher our instructor really was. He didn't try to teach us novices everything we could possibly learn about ceramics in one term, but rather what we needed to know when we needed to know it. When a teachable moment arrived, he was on the spot with information, technique, and support.
I undertook this project about 3/4 of the way through our class meetings, after I had had some exposure to the slow pace required to make a finished clay piece. Still surprising– to me anyway– was that it took more than one class session to work the clay into the desired form and smoothness. I had to carefully cover my half-finished piece after the first week so that it wouldn't dry out during the week between classes; then I could continue refining the shape in our next session and ready the tray for firing.
I was pleased when my piece survived the first round of firing; not every piece of clay is so fortunate, you learn pretty quickly in a ceramics class. Next I coated just the inside and the lip with a clear glaze. Again, my luck continued and my piece came out of the kiln in one piece.
Is it perfect? Heavens no!
Am I happy with it? You bet!
Our class was a success. Jim and I had a good time working with the clay and exploring the tools we had access to in the well-stored ceramics studio. It was truly Recreation and Education: we had a relaxing evening of mucking around with mud and a chance to learn how to make the mud do what we wanted– sort of like gardening.