I grew up in the Detroit area and heard much made of Stroh's "fire-brewed" beer. Now that I make my own beer, I realize that this claim was far less exotic than it seemed, but ever since I got the woodstove, I've wanted to attempt a batch of beer on it. Last Sunday afternoon the weather was beautiful, and brewing seemed like the perfect excuse to stay outside. I had *most* of the ingredients for this recipe, but I figured since this was an experimental batch anyway a bit of careful variation would be tolerated.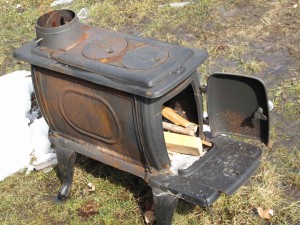 The base recipe is for a "Bridgeport Porter" and it came from Brew Your Own, November, 2001 the "Replicator" column. I've never tasted the beer that it purports to imitate and I consider that likely a good thing. I list here the ingredients that I actually used, mostly due to improvisation.
9 lbs Maris Otter
.5 lbs chocolate malt
.75 lbs Roasted Black Barley
1 oz (13%) Magnum leaf hops – I upped the amount because I suspected these might not have been the freshest
1 oz home grown Cascades – Who knows how much umph they have?
The equipment was still handy from the batch I made with The Boy a couple weeks ago so all I needed to do, pretty much, was measure and grind up the base grain. I got the water up to mashing temperature on the gas stove inside and mashed for about an hour at 152 degrees F. I batch sparge for convenience and, truth be told, I drained this batch at bit before full conversion had taken place, based on an iodine test. If I were rationalizing, I'd say that it was intentional because I didn't know how long it would take my woodstove to raise the temps high enough to denature the enzymes.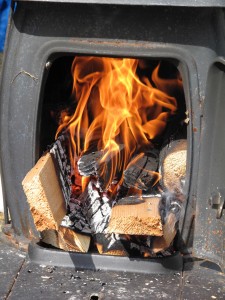 During the last 20 minutes of the mash, I stoked up the woodstove. I had filled two garbage cans with cut-offs of cedar planks from the barn plus a few bits of wind fall branches. The wood was dry, and soon a cracking fire was blazing in the fire box. For safety's sake, I uncoiled the garden hose — I was going to be using it to chill the wort later anyway — but Jan noted that at this moment, the woodstove basically stood in the center of a ten foot puddle. I was a little afraid that there'd be too much smoke. Initially there were some white plumes but pretty soon, I suspect once things got up to heat, the smoke disappeared. I really don't know how to moderate heat on the woodstove for maximum efficiency. I ended up using about half as much wood as I feared that I would. My goal eventually is to make one of these "rocket stoves" which are particularly efficient ways of using wood for cooking.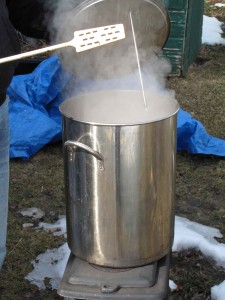 At 12:45, the pot was 154 degrees, not much higher than mash temp. At 1:00, the pot was 160 degrees. I also added the bittering hops since at that point I still doubted that the wood fire could coax the whole five gallons up to a boil. My doubt was groundless. At 2:45, the wort was rolling. Not a speedy time from mash to boil but at least there was no boil over. I stoked the flames and figured out a bit more about running the stove. About 3:30, I added 1 oz of homegrown Cascades and also put in the wort chiller.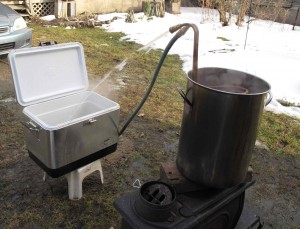 … At which point I realized the problem with the whole idea of "chilling" a pot that is still sitting on a wood stove. I wanted to save the cooling water to wash out the mash tun, and I didn't have anything else handy and stable that could support five gallons of liquid. But I DID have a chunk of 4 x 8. I lifted the pot slightly and 20Minute Jan slid the 4×8 between the pot and the "burners." Worked fine.
The wort was soon down to the temperature for pitching yeast. Yeast? Yikes! I had intended to pitch onto the yeast cake of the stout I brewed recently but the stout was still residing on top of it! I resorted to a package of Windsor dry yeast and it proved viable enough to blow off the fermentation lock which, as everyone knows, is the sign of Good Beer.
The afternoon was muddy but pleasant, and I greatly enjoyed my time outside. Sure, a couple hang ups occurred but I think the session was a success. I reserve judgment about the beer of course. I wish I'd remembered to do a hydrometer reading. I smelled like wood smoke well into Tuesday and Jan kept cracking wise about "This is how they made beer on the Oregon Trail." I used less than half the wood that I allotted for the batch. In fact, I'm already making plans for my next "fire-brewed" batch, a pale ale, maybe as soon as this weekend.
I should mention that there was PLENTY of heat coming out of the woodstove after I finished brewing, enough to cook dinner. 20minute Jan prepared a delicious stir fry of garlic and shrimp and I-know-not-what-else and cooked it in a wok right over the stove. We cooked outdoors on the woodstove several times last summer, and this meal reminded me that soon, we'll be outdoors again– perhaps enjoying a Fire-Brewed Porter, while we're at it.