To be very upfront: our Egg Foo Young is probably not a very authentic recipe. Then again, I don't know that Egg Foo Young really counts as an authentic Chinese dish.
All that aside, Egg Foo Young, as we've come to make it, is a delicious, handy, easy and healthy meal. We like it best without the gravy or sauce that sometimes accompanies it.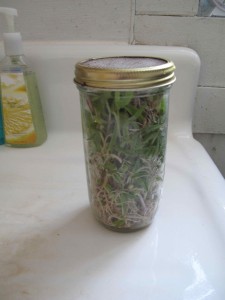 Our Egg Foo Young starts with a jar full of homegrown mung bean sprouts. When the jar is filled, it's time to make Egg Foo Young.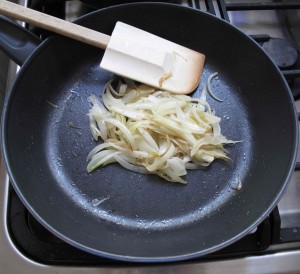 Slice and saute a large onion until soft and golden.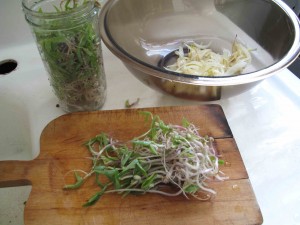 Wash and chop your sprouts into 2 or 3 inch lengths.
In a bowl, combine 1 cup egg whites with 3 whole eggs.
Add the cooked onions and the chopped bean sprouts to the bowl and stir well to combine.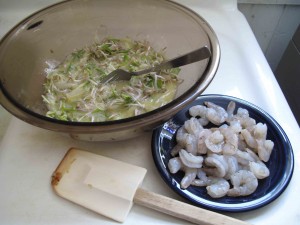 If you are making vegetarian Egg Foo Young, ignore the lovely shrimp in the picture and skip the next step.
We don't skip it usually. We like a bit of meat with our meals so we add leftover cooked chicken, pork, or beef.
Or, if it's your lucky day, you could add 1/2 of raw peeled shrimp. Shrimp are great in this dish because they have about the same cooking time as the rest of the dish — most notably the egg– so they come out just perfect. These were simply frozen shell-on shrimp from the big grocery store bought on sale. They aren't fancy but they contribute a festive touch to this dish.
Once all your ingredients are combined, get your non-stick pan nice and hot over a medium-high heat. This is another spot where we part company with some Chinese restaurants; we pan fry the patties in minimum oil so they come out light and not greasy. We use a little cooking spray and a touch of oil in the pan.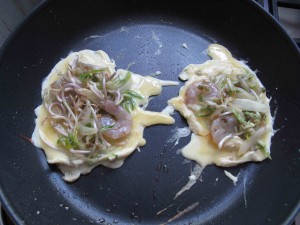 Stir your egg mixture and, using a ladle, scoop out 1/3 cup and add to your hot pan. I use a rubber heat-tolerant spatula to "tame" the egg and keep the structure patty-like as it cooks.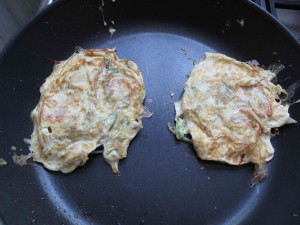 Watch for the egg to cook and, in this case, for the shrimp to turn slightly pink. Then it's time to flip, for which I use the other kind of spatula, AKA the pancake turner.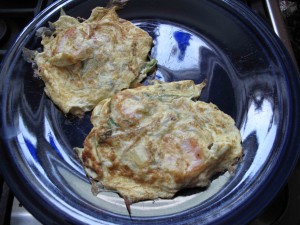 Let the patties cook just a couple minutes more, until the egg is set and the shrimp are cooked. The plate up and enjoy!
Variations on Egg Foo Young ingredients are limited only by your imagination and the content of your refrigerator. From the vegetable realm, you could add celery, peppers, peas, finely chopped or shredded carrots, spinach, or green onions. If you have them on hand, water chestnuts or bamboo shoots would work. Tofu would also be great addition.
Egg Foo Young doesn't have to be delivered to your door or be a fried gravy-covered health hazard. Minimal effort results in a delicious and not-bad-for-you meal. Leftover patties are great for satisfying snacks or are a portable surprise in a packed lunch. It's an easy dish that can help you both use up some leftovers and get dinner on the table in a hurry.