(20-Minute Jim) If it's Friday and if it's during Lent (the season leading up to Easter observed by many Christians), then Jan and I are likely eating fish for supper. It's not a religious practice for us; we're strictly tourists but for about the past five years, Jan and I have been attending the various Fish Fry dinners hosted mostly by Catholic churches and Catholic-flavored charities. How we got started is a story in itself but one for another time. Tonight we attended the Knights of Columbus in Dexter, MI and, boy were we impressed.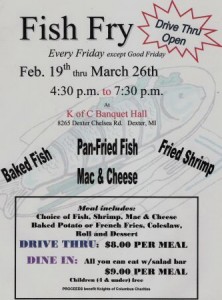 First of all, the fish was incredible. As is common, it came both baked and fried, but the fried fish was pan fried not battered and deep fried. This was some of the best cooked fish I've ever eaten, truth be told. It was tender and moist and since there wasn't a thick coat of batter, I felt I was getting more actual fish. Both the baked and pan fried were excellent but I think I preferred the fried, which just re-enforces my suspicion that everything tastes better fried.
The fish at a fish fry is obviously important but personally, it's one of the traditional side dishes – macaroni and cheese – that is the hardest to pull off. (I still prefer the kind Jan makes.) The mac and cheese in Dexter was solid but not stellar. The sauce was ample and cheesy but the noodles were a bit too soft for my preference. Make no mistake, I still asked for a double scoop on both the plates I ate.
That's right I had two plates full of food and I could have gone back for more. It's kind of funny I suppose that Lent – a time traditionally associated with "giving up" something – also is the time of these fantastic, frequently all-you-can-eat dinners.
The Dexter K of C had a few other special touches. There were fried shrimp which were nothing spectacular on their own but a nice addition. And there were baked potatoes in addition to the french fries. I skipped the fries but Jan says they were excellent. Incidentally, I recommend dipping french fries into tartar sauce: I'll never go back to ketchup. Desserts in general aren't my thing but Jan reports there was a very good selection that included many homemade treats. I did notice that since the Knights of Columbus have a members only liquor license that some folks were enjoying a beer with their meal.
I scanned the room of round tables and it was easy to remember what had attracted Jan and me to these Fish Frys in the first place. There were a couple hundred folks – seniors, families, teenagers, other middle aged couples like Jan and me. We didn't know a soul but it felt like we belonged here. We felt welcome. Certainly, it's nice to know that the K of C is a charitable organization and the money raised from the tickets goes to help people in need. But what keeps Jan and I searching out places to have fish on Friday is that sense of warm, common humanity that we found in Dexter.