Last summer, I read somewhere that in medieval times, people ate hop sprouts in the early spring. Sometimes called "hop asparagus," the tender young hop shoots were steamed or sauteed. (I thought I'd read that on Wikipedia, which is the source of most of my random knowledge, but I can't find the reference there now.) I could imagine that in the Dark Ages, after months of cold-cellared root vegetables, a little bit of fresh green would be an amazing treat. Jim is usually game for culinary experimentation so I thought we'd like to try eating hops too. By mid-summer, however, our hop vines were no longer at the sprout stage, but more at what Jim calls the "Jack and the Beanstalk" stage so I tucked away the thought of cooking and eating hops until this spring.
So on Sunday, I snipped what seemed like a pile of hop shoots about 5 to 6 inches long with kitchen sheers. (We have let our hops grow a bit too enthusiastically in years past, I'm afraid; a friend says he thins his hops to only one or two vines so I knew we could spare meal's worth.) In the kitchen, I washed the hop shoots and trimmed off a few of the longer stems.
Then I sauteed them in butter. The cooking time was only a few minutes, maybe 2 or 3. The shoots are quite delicate, as you can see, and they do look more than a little like miniature asparagus.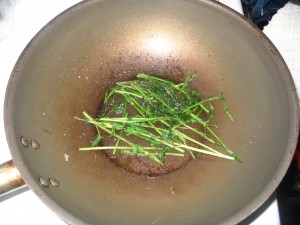 They made for an interesting, though not necessarily filling, side dish. They are quite pleasant and do taste very similar to a mild sort of asparagus.
Other people enjoy eating hops too, as I found here and here and here. Some of their recipes are much fancier and have fancier accompaniments than mine.
I can put "eat hops" on my Done That List. My curiosity has been satisfied: I've eaten hops. And I think I'll do it again next spring.