Change is hard.
For many years, I've made the same favorite cornbread recipe from a cookbook that's been highly influential on our understanding of food, the More with Less Cookbook by Helen Janzen Longacre. (This cookbook is so significant that it deserves a post or two all its own.) Cornbread is the perfect accompaniment for so many of our favorite winter meals, like chili or soups. Everyone in our family likes it and it's easy to prepare. Why mess with a good thing?
Two ideas I encountered challenged my status quo (but well-loved) cornbread philosophy. One came from Everyday Cooking with Dr. Dean Ornish. What if we could make delicious cornbread with a lower fat content? I'm not sure where I first came across the second simple change: what if using a cast iron pan really did make a crisp crust? It doesn't hurt to try something new, and surprisingly enough, I've ended up adopting some new cornbread habits.


My new modified cornbread recipe is not quite as fat-free as what Dr. Ornish advocates, but it's an improvement over the original recipe in terms of fat reduction. (Those among us who don't care for such triffles are free to butter their cornbread.)
Here is my version: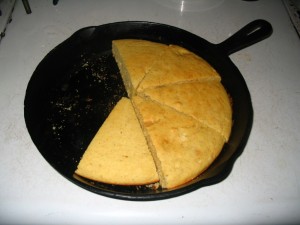 Perfect Nearly Fat-Free Cornbread
1 cup unbleached all-purpose flour
1 cup yellow cornmeal
2 tablespoons brown sugar
2 teaspoons baking powder
1 teaspoon salt
1 cup nonfat milk
2 tablespoons vegetable oil
2 egg whites
Preheat the oven to 425 degrees F.
Spray a 10-inch cast iron pan lightly with cooking spray.
In a medium bowl, stir together the cornmeal, flour, brown sugar, baking powder and salt. In a large bowl, mix together the milk, oil and egg whites.
Put the prepared pan in the oven for a minute or two while you combine the ingredients. Take care not to overheat the pan as the cooking spray burns easily.
Add the dry ingredients to the wet ingredients. Stir together lightly just to blend, no more than 30 strokes. Do not overmix or bread will be tough. Pour batter into prepared pan and bake for 20 minutes, until the top is lightly browned. Cut the cornbread in wedges and serve warm.