We've finally arrived at the rose garden stage of gardening. I used to think that only gardeners with a certain amount of experience and maturity could grow roses. It seems that we've arrived at this point, after 25 years of gardening, sort of by surprise– a little bit like the surprise one feels when one finally concedes that perhaps one is middle-aged. Hmmm…

Jim had a couple of specs in mind for our potential roses. He wanted to get them from Great Lakes Roses, a local nursery that specializes in roses for our climate. They also have a permanent stand at our local farmers' market which is very convenient for us. One of the owner's, Nancy Lindley, has written a book, Roses for Michigan, so we knew we would be getting expert advice and excellent stock.
Keeping with our garden themes of edible and useful, Jim also wanted to grow roses for the rose hips. Rose hips have a long history of use in traditional medicine and are high in vitamin C and iron Rose hips can be used to make tea, jam, jelly, soup and oil. They can also be used to make wine and mead. I am already wondering which we'll make this year.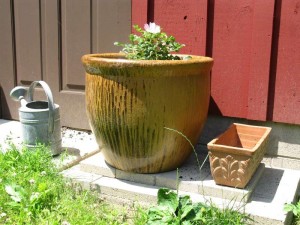 The proprietor of Great Lakes Roses suggested we get Rosa Rugosa, a variety of roses known for their big hips. We picked out an older breed of pink rose called Fru Dagmar Hastrup and a newer white rose called Snow Owl.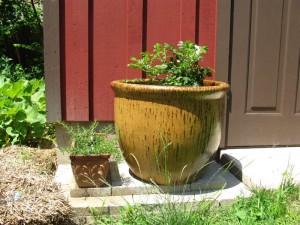 We placed the roses in two large pots on either side of the barn door. Having learned that roses like at least 6 hours of sunlight per day, I wondered at first whether that location would deliver on the necessary rays. Now that I'm studying the sunlight patterns, I'm discovering that the roses are getting much more than 6 hours of sunlight per day.
Rose hips ripen after they are first touched by frost and they turn red. Meanwhile, I'm watering the roses in the morning, as per the best advice we've received. I'm taking time to smell them every day too, and their scent is wonderfully sweet.