I don't mind getting my hands dirty, but I somehow manage to love my gardening gloves to death. As I donned my several-year-old gloves in the early spring, the cuffs gave way, rendering the gloves quite uncomfortable. Dirt would fall inside as I worked, making my hands itch. Also, pulling them off and on — a pretty constant activity for having to get my hair out of my eyes, or rub my nose, or perform some delicate task– became nearly impossible. My gloves weren't so useful anymore.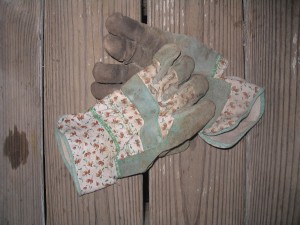 Then I spied these beauties at the garden center when I went to purchase some patio blocks for the garden. These were definitely a step-up in the gardening glove world. Full leather gloves with the Martha Stewart seal of approval. How sturdy! How comfy! How lovely that they were on sale that week, because I really needed them. Just outside the store, I put them on before I loaded my cement patio blocks into the car, protecting my hands from scuffs.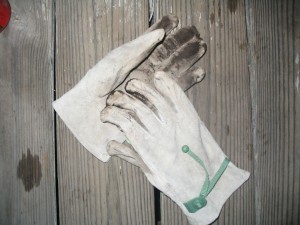 I don't wear gloves for many garden tasks like planting seedlings. It's easier to be gentle with the roots when using bare hands.
Other garden tasks require gloves however. I reach for my gloves whenever I'm using tools like the shovel, the rake or the hoe. Who wants blisters or splinters? My hands get less tired if I wear gloves when mowing the lawn. For big weeding tasks or in areas where nettle or other unpleasant-to-touch plants lurk, gloves are essential. Lastly, gloves give my fingers to the courage (or protection!) to squish just about any insect-like threat to my garden. Yes, they help keep my hands soft and lovely, but most importantly, my gloves make me tough.