A lovage seedling followed us home from the garden center years ago. We were looking for perennial herbs to fill out the garden bed we'd set aside for herbs and we thought we'd give the tiny lovage plant a try.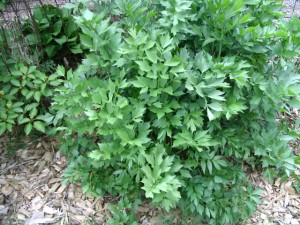 Our lovage did not stay little for long. Lovage grows 3 to 9 feet tall. Our plant averages 6 or 7 feet; it's a good thing we put it in the back of the bed. Lovage is sturdy and hardly, and it resembles an enormous celery plant. Lovage is related to celery, in fact, and the spice sold as "celery seed" in the stores is often partially or entirely ground lovage seed.
We have indeed harvested our own lovage "celery seed" in the fall. We picked the seed clusters and finished the drying process indoors. Then we pulled the seeds off the stems and stored them in small jars. They have a lovely, pungent smell.
Lovage is wonderful for soup. Here are two that we enjoy:

Green Lovage Soup
2 onions, peeled and sliced
4 large potatoes, peeled and diced
2 sprigs lovage
salt and freshly ground black pepper
2 cups of chicken broth
1 cup of milk
2 Tbs of butter
Melt the butter in a large pan, add the onions and saute until soft. Add the potatoes and cook for 4 minutes. Add the broth and season with salt and pepper. Bring the pot to a boil, cover, and reduce to a simmer for about 15 minutes. Add the chopped lovage. Blenderize the mixture, either with a mixing sticker or in the blender, being careful with the hot liquid. Return to the heat, test for seasoning, adjust consistency if necessary, add milk and serve.
*****
Cream of Lovage Soup
from Kitchen Gardener, August/September 2000 (now defunct, sadly, although some back issues are available)
4 cups of vegetable stock
1 cup chopped lovage leaves and stems
1 medium potato, peeled and minced
2 Tbs. freshly squeezed lemon juice
1 cup heavy cream– I substitute milk
Salt and freshly ground pepper
Chopped lovage leaves for garnish
Combine the stock, lovage and potato in a large pan and bring to a boil. Lower the heat and let the mixture simmer for 15 to 20 minutes. Stir in the lemon juice, then pour the mixture through a strainer into a container to remove the solids, pressing gently to extract the flavored liquid.
Whisk in the cream and add salt and pepper to taste. To serve, heat gently, ladle into small bowls, and garnish with chopped lovage leaves.
*****
Once you experiment with lovage soup, you may want to move on the Lovage Martinis. Who would have thought? We will want to try some of these this summer.
I plan to divide the lovage plant next year and share some with gardeners in my area through my local freecycle group. There's plenty of lovage to go around.