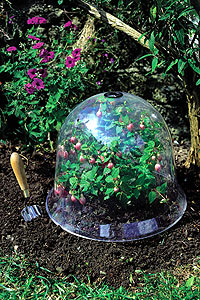 Have you ever seen traditional garden cloches? They are beautiful, glass bell jars that you put over tender plants to protect them from the harsh elements and insects. You can use cloches to get a head-start on the growing season. They add a very classy, Victorian look to a garden. Imagine a row of them, covering all the early seedlings in a garden. How lovely! And imagine the expense! At $50 or $60 a pop, these beauties are not cheap.
Using cloches is an ingenious gardening technique, however, and we've managed to do so for the last few years with a bit of DIY attitude. If you are itching to get your garden going again, this is an easy, earth-friendly recycling project with which you can pass a little time until the snow melts.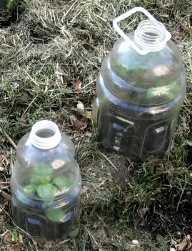 We save large-ish clear plastic juice bottles, from cranberry juice, for example. With heavy sheers or a knife, carefully cut off the bottom of the plastic bottle. Once you've transfered your seedlings to your garden soil, top them off with a plastic cloche. The cloche keeps the air warmer, but vents itself through the spout, so it doesn't get too hot inside. Cloches can cut down on insects on your plants. Using cloches has reduced the number of flea beetles that find and nibble on my baby eggplants.
Ours are not particularly gorgeous, but they serve the purpose. We switch them around after a week or two, moving them to the newer or smaller seedlings over the course of the start of our garden. Jim came up with a clever and whimsical way of storing our plastic cloches too. He strings them on a rope, creating a very cute clear dragon that we hang on a peg in the barn when the cloches are not in use.