Today I scrolled through digital pictures of gardens from previous years, looking for a happy spot of green to reflect upon on this wintery day. We've collected panoramic pictures taken from the upstairs bedroom window; closeups of plants, leaves, flowers, and fruit; daily photos of the old barn being taken down and the new barn rising from the ashes. Viewing the collection is a tour of memories and stages. And I came across this special picture that gave my heart a good tugging. It's our daughter's view of the garden at roughly age 6:

Laura also included a description in this project about "My Habitat."

Allow me to translate:
My Habitat

(My) friends are close. My garden has tomatoes, eggplant, butternut squash, carrots, broccoli, basil, beans, jalapeño peppers, oregano, mini pumpkins and pumpkins. And I have a red barn and it needs some fixing up.
In case you aren't familiar with our blog, here is the red barn she referred to and, as any first grader could tell you, it indeed did need some fixing up!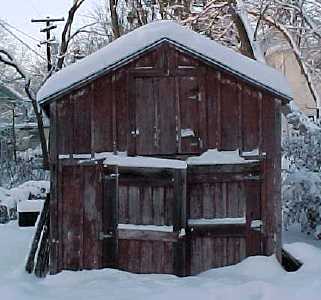 This winter, as we prepare for our 12th consecutive garden in this home, we are preparing as well for Laura's high school graduation. Both of those events seem nearly impossible until you consider how much she has grown up and how far our garden has come. Then you have to admit: there is a season for everything.